Kamariya Hila Rahi Hai Lyrics – Pawan Singh & Payal Dev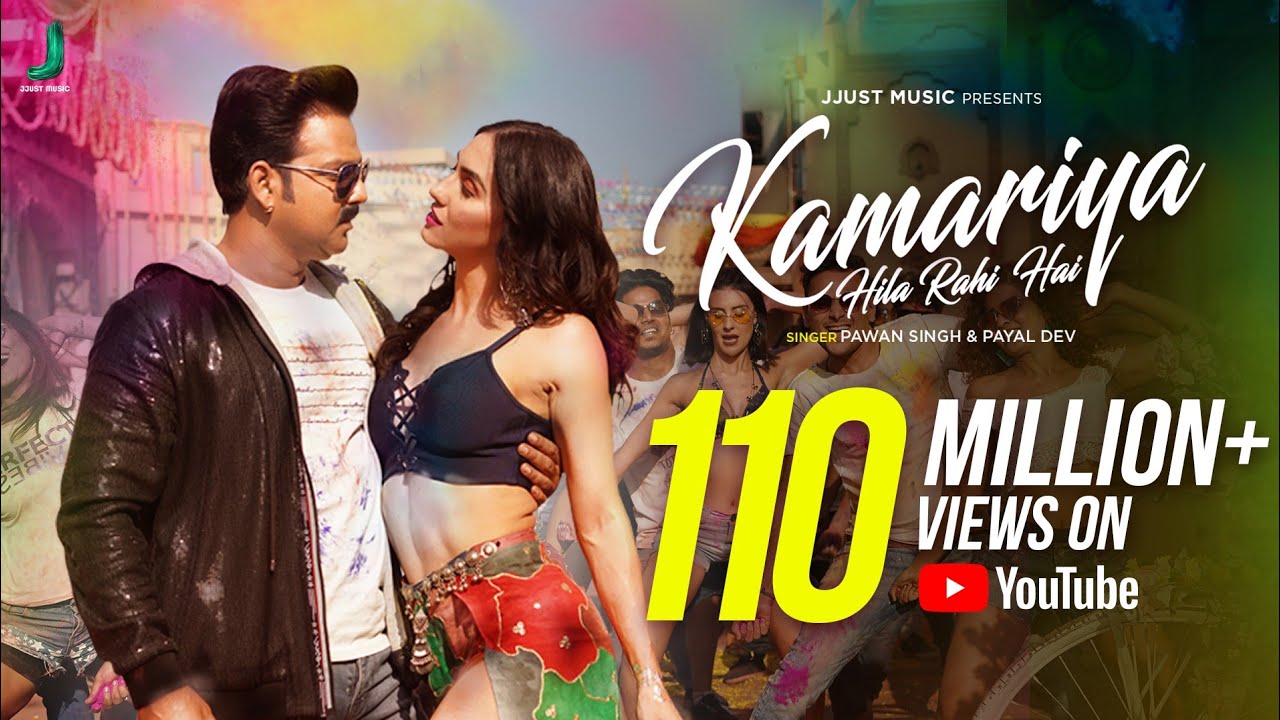 | | |
| --- | --- |
| Singer | Pawan Singh & Payal Dev |
| Composer | Payal Dev |
| Music | Aditya Dev |
| Song Writer | Mohsin Shaikh – Payal Dev |
Kamariya Hila Rahi Hai Lyrics – Pawan Singh & Payal Dev : Presenting the lyrics of the song "Kamariya Hila Rahi Hai" song sung by Pawan Singh & Payal Dev. The music of this song is composed by Payal Dev.
Bhojpuri Superstar Pawan Singh is here with his first-ever Hindi mainstream track. With the gorgeous Lauren G, the Lollipop Laage Lu sensation collaborates with Jjust Music to bring to you your go-to Holi celebration track ''Kamariya Hile Rahi hai".
Pawan Singh's co playback singer Payal Dev is also the person behind the song's catchy beats & music which is sure to get you moving and grooving. The catchy dance moves are choreographed by Mudassar Khan.
Kamariya Hila Rahi Hai Lyrics – Pawan Singh & Payal Dev
Rang birangi Holi mein
Ek baat meri tu sunn lena
Masti wala bhaang laga ke
Laga ke, laga ke
Masti wala bhaang laga ke
Sara ra ra kar lena
Mehanga lehanga pehan ke gori
Kaal chasma laga ke gori
Mehanga lehanga pehan ke gori
Kaal chasma laga ke gori
Bhiga ke choli giraaye bijuri
Phagun mein rang barsa rahi hai

Kamariya hila rahi hai
Gulaal uda rahi hai
Kamariya hila rahi hai
Bawaal macha rahi hai
Kamariya hila rahi hai
Gulaal uda rahi hai
Kamariya hila rahi hai
Bawaal macha rahi hai
Haaye peechhe peechhe mere aata hai
Kyun tu desi main hoon angrezi
Oye oye aaye haaye
Laal lipstick dekh ke teri
Ho gaya saara district crazy
Dance floor pe aag laga doon
Sab kehte hain swag dikha rahi hai
Kamariya hila rahi hai
Gulaal uda rahi hai
Kamariya hila rahi hai
Bawaal macha rahi hai
Kamariya hila rahi hai
Gulaal uda rahi hai
Kamariya hila rahi hai
Bawaal macha rahi hai