Shubh Mangal Zyada Saavdhan Review Trailer – Ayushmann Khurrana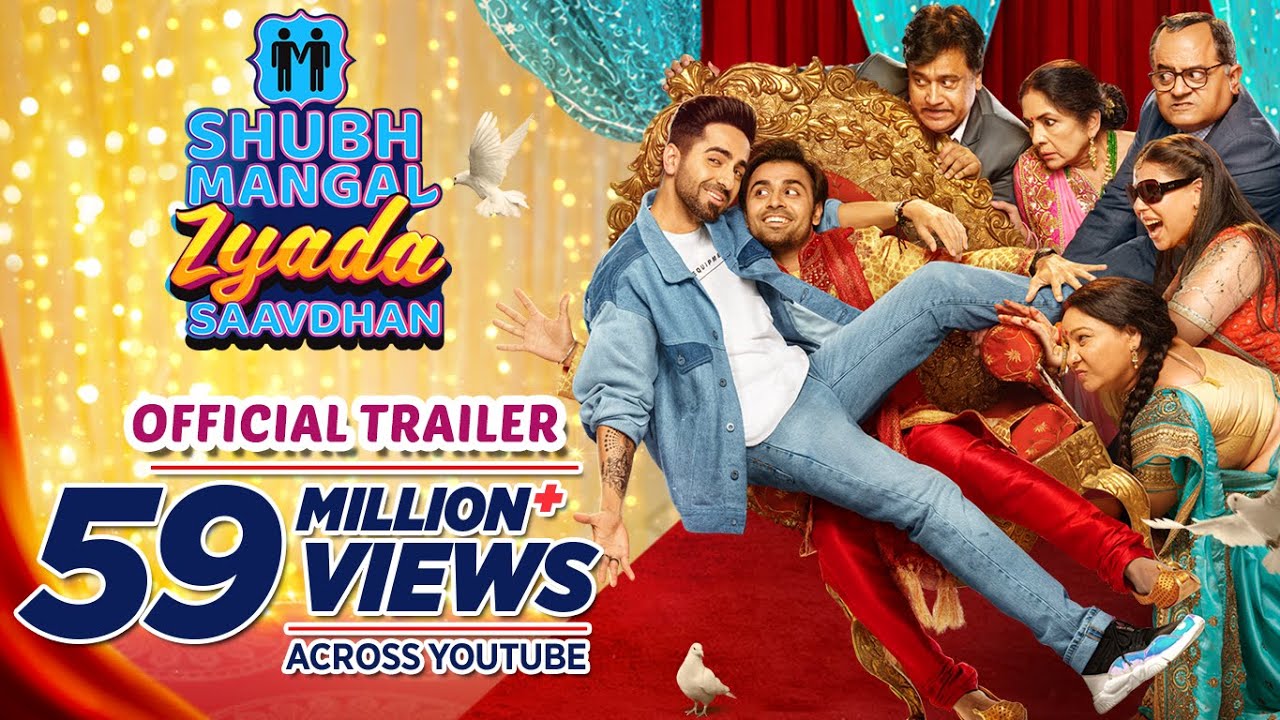 | | |
| --- | --- |
| Artist | Ayushmann Khurrana, Neena G, Gajraj R, Jitu K |
Shubh Mangal Zyada Saavdhan Review Trailer – Ayushmann Khurrana
Shubh Mangal Zyada Saavdhan Review Trailer – Ayushmann Khurrana : Gulshan Kumar, T-Series and Actor Ayushmann Khurrana has shared the first trailer for his next comedy film, "Shubh Mangal Zyada Saavdhan". Ayushmann plays a gay man in the film opposite Kota Factory star Jitendra Kumar and Aanand L Rai present a Colour Yellow Production presenting the official trailer for the movie "Shubh Mangal Zyada Saavdhan". Shubh Mangal Zyada Saavdhan upcoming bollywood film is starring Ayushmann Khurrana, Neena Gupta, Gajraj Rao, Manurishi Chaddha, Jitu K, Sunita Rajwar, Maanvi Gagroo and Neeraj Singh Pankhuri Awasthy. Shubh Mangal Zyada Saavdhan is written and directed by Hitesh Kewalya and produced by Bhushan Kumar, Krishan Kumar, Aanand L Rai, and Himanshu Sharma.
Every love story deserves a happy ending. But the road to achieving this happy ending is a little too rough for Kartik and Aman. While Aman's family tries hard to battle his love for Kartik, Kartik isn't prepared to step back until he marries Aman! Find out what this ultimate feud leads to, in Shubh Mangal Zyada Saavdhan!
The much awaited offering of this year, 'Shubh Mangal Zyada Saavdhan' is set to drop its trailer today afternoon by 1:33 PM and the entire star cast of the film is excited for the trailer release happening today.
Sharing the very interesting first look poster of the film, Ayushmann Khurrana took to his social media handles and announced that the trailer of the film will be out today by 1:33 PM.
He released two posters of the film. In the first poster, we can see Ayushmann Khurrana and his partner Jitendra Kumar in the film siting on the wedding chair while the entire family look at them with amusement while the second poster gives us a feel of DDLJ's climax scene where Raj gives out his hand to Simran.
Song Coming soon Stay Tune
View More Upcoming Film Review Then Click Here

Ayushmann Khurrana for the first time, will play a role of a gay man in this family entertainer "Shubh Mangal Zyada Saavdhan".
Talking to IANS, Ayushmann Khurrana said, 'Shubh Mangal Zyada Saavdhan' is again one such script which will thoroughly entertain audiences and also deliver a crucial social message about inclusivity and individuality. Like all my films, it's again a full family entertainer."
Ayushmann Khurrana is one such superstar who has always worked in films made on different and best subjects and now he will appear in Anand L Rai's 'Shubh Mangal More Savdhan'. In this film based on same sex relationship, he plays the role of a gay man. Unlike Bollywood stereotypes, where a leading superstar has never attempted such roles. Ayushmann feels that he should have done this film to do something for the LGBTQ community.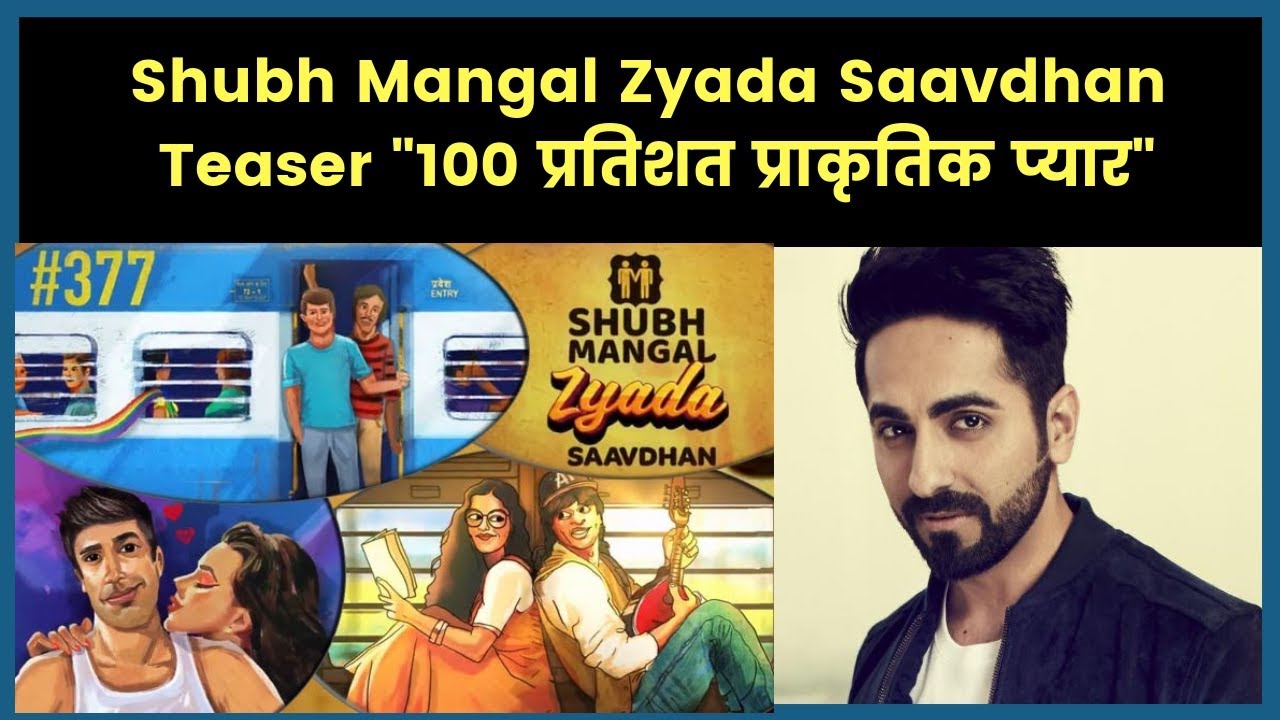 Ayushman says, 'I was born and grew up in a small town and I did not have full knowledge and understanding about it until I grew up. I have seen my view of the LGBTQ community and I have gradually recognized the social stigma and stereotypes associated with this community on a large scale, which has hurt me. '
He told that when the Supreme Court of India canceled Article 377, then he felt proud to be an Indian. He said that all human beings are born equal and they should be treated equally. Who they are in an independent country, who they love, what their choice is, should never be questioned in this regard. But, sadly, in reality this does not happen anywhere and the process of creating a better society is always going on and work is always in progress. Angad Bedi injured while shooting, knee injury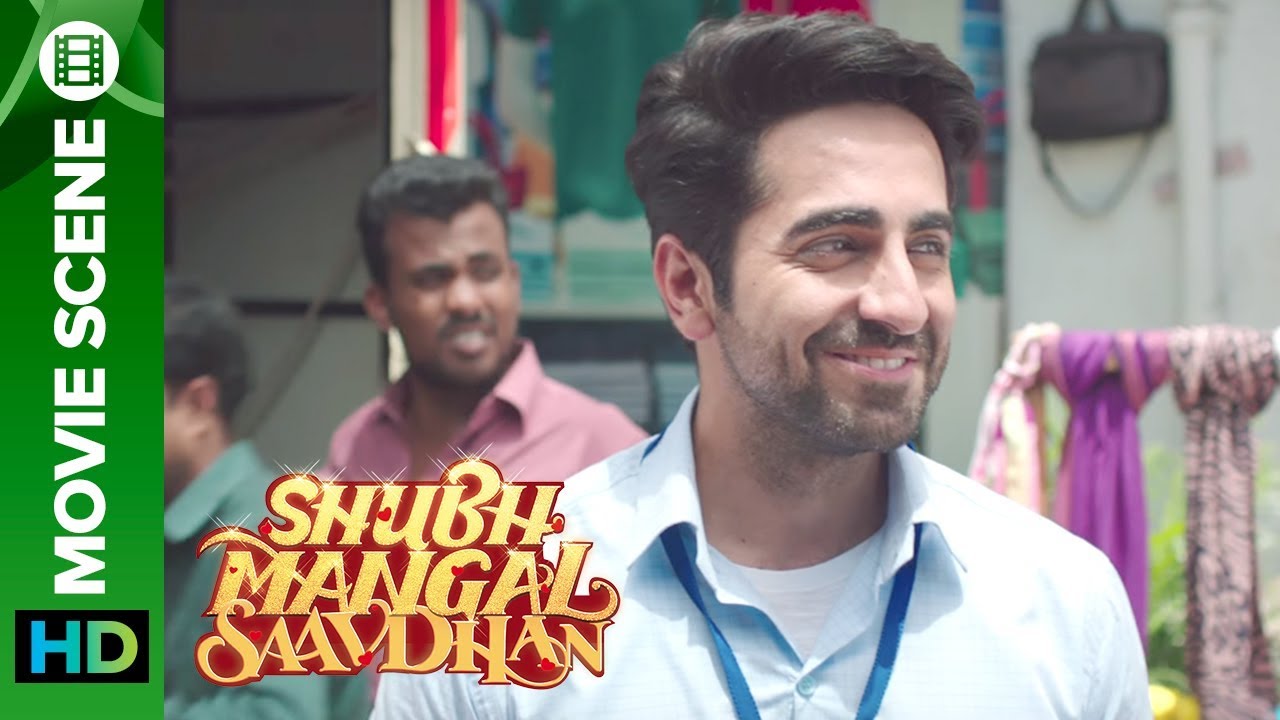 Ayushmann said, 'I am thankful that our nation has also evolved over time and the removal of Article 377 was a historic step towards promoting inclusiveness. I am proud of my country when this decision was passed.
Ayushmann says that he decided to return to Shubh Mangal more careful because he wants to raise more awareness on the issue.
Shubh Mangal Zyada Saavdhan Review In Hindi Trailer – Ayushmann Khurrana
Aayushmaan Khuraana ek aise suparastaar hain jinhonne hamesha alag aur behatareen sabjekts par banee film mein kaam kiya hai aur ab vah aanand el raay kee shubh mangal jyaada saavadhaan mein dikhenge. samaan seks sambandh par aadhaarit is film mein vah ek samalaingik vyakti kee bhoomika nibha rahe hain. boleevud kee roodhiyon ke vipareet, jahaan kabhee bhee ek leeding suparastaar ne aisee bhoomikaon ka prayaas nahin kiya hai. aayushmaan ko lagata hai ki unhen elajeebeeteekyoo samudaay ke lie kuchh karane ke lihaaj se is film ko karana chaahie tha.
aayushmaan kahate hain, main ek chhote se shahar mein paida aur bada hua aur bada hone tak mujhe is baare mein pooree jaanakaaree aur samajh nahin thee. elajeebeeteekyoo samudaay ke baare mein mainne apana drshtikon dekha hai aur mainne dheere-dheere bade paimaane par is kamyoonitee se jude saamaajik kalank aur roodhiyon ko pahachaana, jisase mujhe takaleeph huee.
unhonne bataaya kiya ki jab bhaarat ke sarvochch nyaayaalay ne aartikal 377 ko radd kiya tab unhen garvit bhaarateey hone ka ahasaas hua. unhonne kaha ki sabhee manushy ek samaan paida hote hain aur unake saath ek samaan hee vyavahaar karana chaahie. ek aajaad desh mein ve kaun hain, ve kisase pyaar karate hain, unakee pasand kya hai, is sambandh mein kabhee bhee savaal nahin uthaaya jaana chaahie. lekin, dukh kee baat hai ki vaastav mein aisa kaheen bhee nahin hota hai aur ek behatar samaaj banaane kee prakriya hamesha chalatee rahatee hai aur kaam hamesha pragati par rahata hai.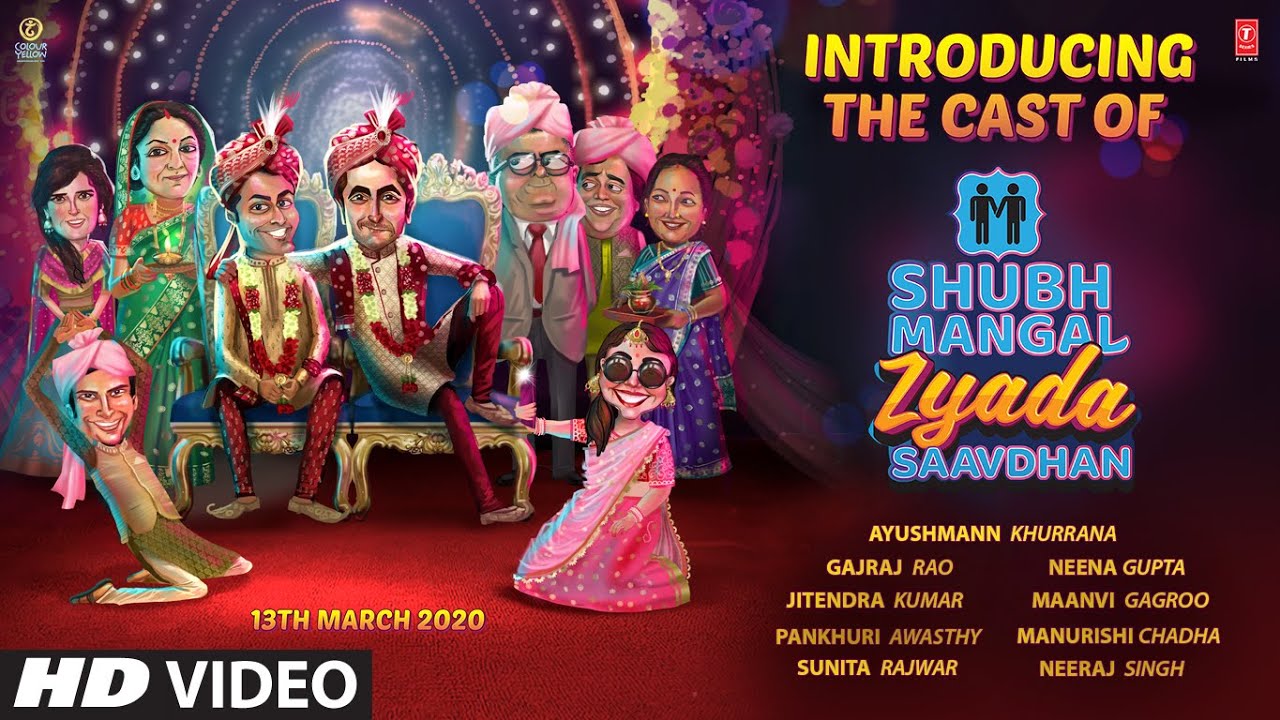 angad bedee shooting karate samay hue ghaayal, ghutane mein lagee chot
aayushmaan ne kaha, main aabhaaree hoon ki hamaara raashtr bhee samay ke saath vikasit hua hai aur anuchchhed 377 ko hataana samaaveshita ko badhaava dene kee disha mein ek aitihaasik kadam tha. is nirnay ke paarit hone par mujhe apane desh par garv hua.
aayushmaan ka kahana hai ki unhonne shubh mangal jyaada saavadhaan mein vaapasee ka isalie phaisala kiya kyonki vah is mudde par adhik jaagarukata badhaana chaahate hain.
is saal kee bahuprateekshit peshakash, shubh mangal saavadhaan aaj dopahar 1 bajakar 33 minat par apana trelar chhodane ke lie taiyaar hai aur film kee pooree staar kaast aaj hone vaalee trelar rileez ke lie utsaahit hai.
film ke behad dilachasp pharst luk postar ko saajha karate hue aayushmaan khuraana ne apane soshal meediya haindal ko liya aur ghoshana kee ki film ka trelar aaj dopahar 1:33 baje tak aaut ho jaega.
unhonne film ke do postar jaaree kie. pahale postar mein, ham aayushmaan khuraana aur unake saathee jitendr kumaar ko shaadee kee kursee par baithe hue dekh sakate hain, jabaki poora parivaar unhen manoranjan ke saath dekhata hai, jabaki doosara postar hamen deedeeelaje ke klaimeks drshy ka ehasaas dilaata hai jahaan raaj apana haath bataate hain. simaran ko.
pahalee baar aayushmaan khuraana, is paarivaarik manoranjan "shubh mangal zyada saudhan" mein ek samalaingik vyakti kee bhoomika nibhaenge.
Why This Film
India ek aisa desh hai jahaan maukhik aise vishayon par baat karata hai. vichaarasheel hain. janata ko lbgt ke baare mein koee jaanakaaree nahin hai. akshay kumaar ne do film banaee hain jo ek saamaajik sandesh detee hain, aur unhen varjit maana jaata hai. toyalet: ek prem katha ne desh ke graameen aur shaharee hisson mein jaagarookata paida kee hogee. khule mein shauch ke lie samasyaon ke baare mein. isake saath hee unhonne paidamain banaee hai. kisee vishay par baat karane vaalee film. is vishay ko sunakar kaee bhaarateeyon ko sharm aatee hai. unake is prayaas ne bhugataan kar diya hai. film kee vyaavasaayik aur saamaajik saphalata ke baad. paidamain ne apane raajasv ka ek nishchit hissa daan kiya hai. mahilaon ko sashakt banaane ke lie. is vishay par jo varjit maana jaata hai.
pichhalee film se shubh mangal saavadhaan mein 180 digree ka badalaav hoga. yah vibhinn vishayon par aadhaar hai. aur film ka seekval nahin hai jaisa ki kuchh log maanate hain. vishay ko khodane mein film ne ek saahasik kadam uthaaya hai. aur haasy ke maadhyam se jaagarookata phailaana. baala aur andhadun kee rihaee ke baad unaka staaradam ek naee oonchaee par pahunch gaya hai. kya aapane prasiddh midaas kahaanee ke baare mein suna hai? jisamen midaas tach sab kuchh sona ban jaata hai. usake saath bhee vahee ho raha hai. vah ek anoothee patakatha le rahe hain aur unhen boks ophis kee badee kahaaniyaan bana rahe hain. unake asaadhaaran abhinay ke saath. yah film unakee pichhalee hit film se alag nahin hogee.
Final Thoughts, Box Office Collection:
aise vishayon par film sirph ek achchhee skript aur kam boks ophis ke adheen nahin hotee hain. lekin aisee film ko janata ne sanjoya hai. hamane toyalet: ek prem katha ko 18 karod ke bajat se 300 karod ka boks ophis par dekha hai. aayushmaan kurraan ka staaradam aur unaka midaas iphekt. yah sinema mein kaee logon ko aakarshit karega. yahee nahin yah ek vyaavasaayik saphalata hogee. lekin yah hamen ek achchha saamaajik sandesh dega. film 200 kor ka mekovar kar sakatee hai.
Film Message
भारत एक ऐसा देश है जहाँ मौखिक ऐसे विषयों पर बात करता है। विचारशील हैं। जनता को LBGT के बारे में कोई जानकारी नहीं है। अक्षय कुमार ने दो फिल्में बनाई हैं जो एक सामाजिक संदेश देती हैं, और उन्हें वर्जित माना जाता है। टॉयलेट: एक प्रेम कथा ने देश के ग्रामीण और शहरी हिस्सों में जागरूकता पैदा की होगी। खुले में शौच के लिए समस्याओं के बारे में। इसके साथ ही उन्होंने पैडमैन बनाई है। किसी विषय पर बात करने वाली फिल्म। इस विषय को सुनकर कई भारतीयों को शर्म आती है। उनके इस प्रयास ने भुगतान कर दिया है। फिल्म की व्यावसायिक और सामाजिक सफलता के बाद। पैडमैन ने अपने राजस्व का एक निश्चित हिस्सा दान किया है। महिलाओं को सशक्त बनाने के लिए। इस विषय पर जो वर्जित माना जाता है।
पिछली फिल्म से शुभ मंगल सावधान में 180 डिग्री का बदलाव होगा। यह विभिन्न विषयों पर आधार है। और फिल्म का सीक्वल नहीं है जैसा कि कुछ लोग मानते हैं। विषय को खोदने में फिल्म ने एक साहसिक कदम उठाया है। और हास्य के माध्यम से जागरूकता फैलाना। बाला और अंधदुन की रिहाई के बाद उनका स्टारडम एक नई ऊंचाई पर पहुंच गया है। क्या आपने प्रसिद्ध मिडास कहानी के बारे में सुना है? जिसमें मिडास टच सब कुछ सोना बन जाता है। उसके साथ भी वही हो रहा है। वह एक अनूठी पटकथा ले रहे हैं और उन्हें बॉक्स ऑफिस की बड़ी कहानियां बना रहे हैं। उनके असाधारण अभिनय के साथ। यह फिल्म उनकी पिछली हिट फिल्मों से अलग नहीं होगी।
अंतिम विचार, बॉक्स ऑफिस कलेक्शन और फिल्म का बजट:
ऐसे विषयों पर फिल्में सिर्फ एक अच्छी स्क्रिप्ट और कम बॉक्स ऑफिस के अधीन नहीं होती हैं। लेकिन ऐसी फिल्मों को जनता ने संजोया है। हमने टॉयलेट: एक प्रेम कथा को 18 करोड़ के बजट से 300 करोड़ का बॉक्स ऑफिस पर देखा है। आयुष्मान कुर्रान का स्टारडम और उनका मिडास इफेक्ट। यह सिनेमा में कई लोगों को आकर्षित करेगा। यही नहीं यह एक व्यावसायिक सफलता होगी। लेकिन यह हमें एक अच्छा सामाजिक संदेश देगा। फिल्म 200 कोर का मेकओवर कर सकती है।
Shubh Mangal Zyada Saavdhan Review
Actor Ayushmann Khurrana has shared the first trailer for his next comedy film, Shubh Mangal Zyada Saavdhan. Ayushmann plays a gay man in the film opposite Kota Factory star Jitendra Kumar.
The film stars Ayushmann and Jitendra as two men in love who can't get the latter's family to accept their relationship. Gajraj Rao plays the strict father who would do anything in his might to set his son straight, literally. He brings along a beautiful young woman to woo his son and when nothing works, he even beats his lover to a pulp.
Through it all, the two boys relentlessly fight for their right to live and love. Watch the trailer for Shubh Mangal Zyada Saavdhan here: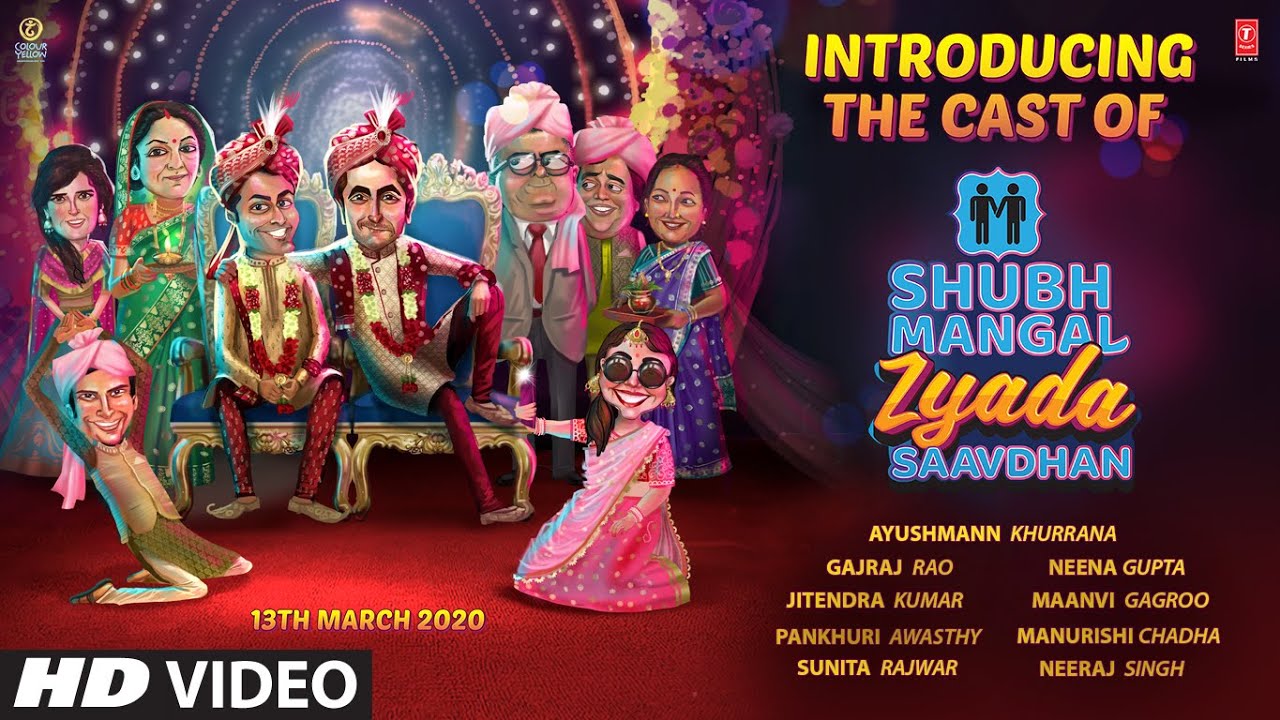 Ayushmann also shared three new posters for the film on Monday morning to announce the trailer release time. Apart from Ayushmann and Jitendra, the posters also featured other actors such as Neena Gupta, Gajraj Rao, Manvi Gagroo and others.
One of the posters showed Jitendra dressed like a groom and Ayushmaan sitting in his lap, posing for the camera. Meanwhile, other family members, all in not-so happy-faces, are trying to drag Jitendra back to their side. The 35-year-old actor also let his followers know of the trailer release which was scheduled for a peculiarly specific time: 1:33pm.